Lights Express in Kansas City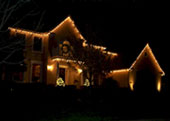 Welcome to Lights Express, your complete Holiday Lighting Company in Kansas City, Overland Park and surrounding areas. We specialize in the installation, maintenance, and removal of custom- designed lighting layouts in the greater Kansas City Area. Devoted to customer service, Lights Express offers it's customers a hassle-free way to relieve some of that holiday stress of hanging Christmas lights and achieve a holiday light installation their neighbors will envy. Take a moment and learn more about what we do to help you hang your Christmas lights.
Call us at 816-916-8221 or
email supportelves@lights-express.com
Getting started with us is Easy! Here's how:
Check out the Request a Free Quote Page for an idea of the cost.
If you like what you see, contact us for a personal visit and exact quote.
If accepted, we'll schedule a date with you for our team to come out and install your lights. After Christmas, we'll take them down and store the lights.
We are Fully Insured and Registered LLC in Kansas