What We Do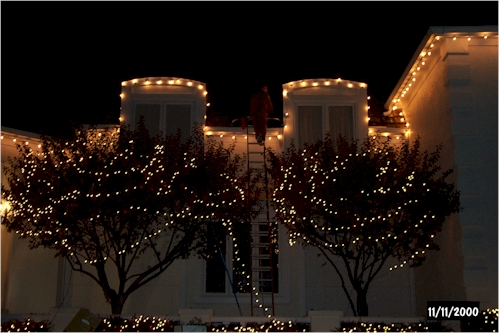 We learned quickly the key to success in this business is no different than any other service-based business; strong customer service. The proof of our commitment to customer service is evident in our high retention rate, and our growth of new customers is through referrals only.
Providing a high level of customer service and support is easier said than done. In this Midwest environment of rain and snow, it's impossible to go through an entire holiday season without having light bulbs or fuses burn out. In addition, electrical power surges are something that can't be prevented in many cases, but good planning can prevent these from becoming a problem. Lights Express provides proactive and reactive support as part of our turnkey solution:
Proactive Support - The most critical factor in a reliable holiday light display is the planning of the electrical wiring and the corresponding load capacity for the electrical circuits. A strong understanding of the limitation of the circuits is required to make sure that the breaker switches are not overloaded. In addition, all electrical connections are taped with electrical tape to prevent moisture from causing failure in the electrical system that results in blown fuses and/or circuit breakers. In addition, we build a safety zone of 25% into every load capacity equation to ensure that there is room for error to prevent power surges from becoming an electrical dilemma. Finally, we schedule at least one drive by inspection per week.
Reactive Support - It is a reality that at some point during the holiday season, a service failure will occur due to a blown fuse or circuit breaker. Lights Express promises to respond to all phone calls within 48-hours of the request.
Turn-key Solution
Based on feedback from our customers and experience over time, we developed a turnkey approach to provide our customers with the highest level experience, while at the same time holding tight to a single cost for the entire holiday season. The turnkey approach provides installation (including lights, extension cords, electrical connections, etc), maintenance and removal at one fixed price.